Knowing what a landlord can deduct from a security deposit can help you avoid losing money to unscrupulous landlords. 
What Can A Landlord Deduct From My Security Deposit? A landlord can deduct the following from your security deposit:
Repairs needed for damage above and beyond normal wear and tear.
Unpaid rent or, if you leave before your lease is up, any costs incurred by the landlord.
Specifics detailed in your lease.
In some states

Cleaning
Personal property such as lost keys
This is a shortlist, but "repairs for damage" can have a surprisingly wide application. Not only that, but there are often disagreements about items such as cleaning. 
The best thing you can do to ensure the return of your entire security deposit is to arm yourself with information and learn what to do as the end of your lease, or your move out date approaches.
What Can A Landlord Deduct From A Security Deposit?
Rules are covering what a landlord can deduct from your security deposit, but those rules can cover a lot more than you realize. 
Repairs That Can Be Deducted From Your Security Deposit 
Some of the things that could be deducted from your security deposit under the heading of repairs include, but are not limited to:
Broken tiles or fixtures in bathrooms and kitchens

A toilet which is blocked or damaged in some way due to misuse

Clogged drains caused by the tenant pouring fat down the sink

Walls which are broken, dented or otherwise damaged. This can include certain decorative effects like painting a wall or portion of wall with chalkboard paint.

Tears, rips, holes or burn marks in carpets

Water, food or other stains on the carpet

Animal stains or odors in the carpet

Broken, replaced, or missing windows, window screens, curtains, blinds, and other window coverings

Broken, replaced, or missing doors and locks

Excessive mold or mildew in the bathroom – the exception being where it can be proven that the tenant contact the landlord about this issue and it had not been addressed, allowing the situation to worsen.

Pest extermination
Unexpected "Repairs"
Many renters make the mistake of believing that "repairs" only covers things like a big dent in the drywall or a broken window. It often comes as a rude awakening that "repairs" includes a whole lot more than that.
For example:
If a tenant has painted the walls in the unit. In this circumstance, the landlord is entitled to charge for the cost of repainting, so the unit looks as it did when you moved in. It doesn't matter if the home has been beautifully redecorated, the landlord is still entitled to deduct the cost of repainting from your security deposit.

Damage to an appliance caused by misuse. For example, if you tried to microwave something wrapped in foil and the microwave broke, you would be liable.

If you have put your own light fixtures in place and left them behind the landlord can deduct the cost of replacing them.
On top of the wide range of things that can be considered repairs, there are frequent disputes about what counts as normal wear and tear. 
What Is Considered Normal Wear And Tear?
There are no cut and dried definitions of "normal wear and tear" in the legislation covering rental properties. However, it is usually taken to mean the gradual deterioration of the rental and items in it, caused by reasonable day to day use.
On the other hand, "damage" is the result of unreasonable behavior or actions.
The problems arise when landlords and tenants have different ideas of what constitutes reasonable behavior and have opposing opinions about something in particular.
An excellent example of this is when holes are made in a wall by thumbtacks or nails.
 A "reasonable number" of such holes is acceptable, but an "excessive number" is not. In this case, a parent may consider multiple holes in a wall caused by their child pinning up posters as reasonable. Meanwhile, the landlord may feel they have to repaint to cover the numerous holes before renting the property once more.
In some states, there are specific standards established around some items. For example, in some areas of the country, a carpet which has been in place for more than five years is considered to have come to the end of its natural life, and therefore the tenant cannot be charged any repair costs for replacement.
Some other examples of what is considered normal wear and tear include:
Faded paint, wallpaper, curtains, carpets, or other surfaces due to sunlight or age.

Dirty blinds and curtains

Rug, carpet or other floor wear caused by normal use

Furniture marks on the floors – the exception being damage to hard flooring surfaces caused by furniture such as gouges and scratches.

Woodwork which is warped due to age, moisture, or other environmental conditions beyond the control of the tenant.

Damage to appliances not caused by misuse. For example, a scratched and faded cooker-top, which was several years old.

Basic dust

Replacement light bulbs or smoke alarm batteries.
Unpaid Rent
This category of deduction is relatively straight forward. If you move out while owing rent, your landlord is entitled to deduct the amount due from your security deposit. To ensure there are no questions over whether or not you owe any rent, always keep records of your rent payments including receipts.
Costs Following An Early End To Lease
Some landlords are happy for a tenant to move out before the end of their lease, but others are not. If you leave your rental before the end of your lease, without the approval of your landlord, they will be entitled to recover expenses from your security deposit.
This can be the costs of finding a new tenant or even the rent you would have paid had you stayed to the end of your lease.
Specifics Detailed In Your Lease
Some leases contain clauses to cover how the rental should look when the tenant leaves. These can include anything from "The renter shall have all carpets and curtains steam cleaned" to "All cupboards should be left empty and free from detritus."
In this case, the landlord can deduct "reasonable costs" to meet these elements. So, for example, if you had an "empty" clause in your lease and the landlord found a couple of empty toiletry bottles in the shower and some cleaning supplies, they would be entitled to deduct money from your deposit. On the other hand, in this example, they would have trouble settling on what constituted a "reasonable cost" for doing this.
In Some States
The three areas above are relatively standard across the country, but in some states, there are additional regulations covering cleaning and certain personal property items, as well as how long a landlord has to return your security deposit.
Cleaning
Just as one renter's normal wear and tear is a landlord disaster zone, the level of cleanliness of a rental unit can cause contention between landlords and tenants.
The generally accepted standard is "broom swept clean" meaning that you have pushed the vacuum around on the carpets, swept and hard floor surfaces, cleaned up and spills, etc. It doesn't require you to get down on your hands and knees and clean every nook and cranny until it sparkles.
Personal Property
This is a pretty small category and, in fact, in many places, these items would be covered under repairs and replacements.
In states or cities that have these rules items such as keys, garage door openers, etc. can be covered by the security deposit.
What Cannot Be Deducted From A Security Deposit?
The cost of repairing defects that existed before your move-in.
Conditions in your rental unit caused by normal wear and tear. See below for a more detailed discussion on normal wear and tear.
Cleaning your rental unit if your unit was as clean when you moved out as when 
What Can I Do About An Unfair Deduction?
When a landlord deducts any amount from your security deposit, they should provide you with a written, itemized account of what they have deducted and why. If you review this information and feel that some or all of the deductions are unfair, the first thing you can do is contact your ex-landlord and ask to discuss the matter.
If your ex-landlord is not the type you can contact for a reasonable discussion or they are just not willing to discuss the deductions then you will have to take them to small claims court to get your money back.
The good thing about this is that, if you win your case, your ex-landlord will not only have to pay back the money, but they will be liable for the legal costs, and they will also have to pay a penalty to you. The amount of this penalty payment varies across the country.
Sometimes just the knowledge that you are willing to take them to court and, if they lose, they will also pay a penalty is enough to have your landlord pay back the money.
On the flip side, before you consider court be sure your ex-landlord is breaking the rules and that is not just a case of you feeling unfairly treated. When a tenant loses such a case, they are usually liable for their expenses as well as those of the ex-landlord.
How Can I Avoid Deductions Of My Security Deposit?
There are several ways in which you can minimize deductions from your security deposit or even avoid them altogether.
Carry out a move-in inspection. If at all possible, carry out a move-in inspection with the landlord or their agents. Go through the home, document anything you think could be a problem at a later point, and where possible take photographs. Have the landlord sign a copy.

Treat your rental well. The most obvious way to avoid security deposit deductions is not to do anything that will obviously damage the home. Also, contact your landlord as soon as there is an issue, so they have the opportunity to address it before it becomes a problem. For example, if you discover a small leak under the sink, call your landlord and have them come fix it. At this stage, a regular leak will be the landlord's responsibility. If you were to leave it for a time and the leak caused damage to the cabinet and mold, the landlord could deduct repair costs from your deposit.

As soon as you know you will be moving out, go around your home and touch up any minor damage you find, replace any missing or broken items, and give the whole place a good clean. Don't forget the appliances.

Ask your landlord if they will conduct a "pre-move out" inspection with you. You and your landlord would walk around the property, and your landlord can point out anything for which they would make a deduction. This will allow you to address any problems. 
For example, your landlord might point out a stain on the carpet, a chipped kitchen tile, and a torn window screen. You would then be able to repair or replace these items without leaving it to your landlord who may have professionals come in and do the work, at a much higher cost.
Conduct a move-out inspection with the landlord and document any damage or required repairs together. You can also take photographs to show the state of the rental unit when you left.
Following these best practices will maximize your chances of avoiding deductions to your security deposit and will help to end your tenancy on a positive note.
About The Author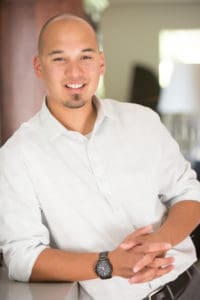 Geoff Southworth is the creator of RealEstateInfoGuide.com, the site that helps new homeowners, investors, and homeowners-to-be successfully navigate the complex world of property ownership. Geoff is a real estate investor of 8 years has had experience as a manager of a debt-free, private real estate equity fund, as well as a Registered Nurse in Emergency Trauma and Cardiac Cath Lab Care. As a result, he has developed a unique "people first, business second" approach to real estate.
Check out the Full Author Biography here.